Precision agriculture permits farmers to maximize yields using minimal resources, water, fertilizer, and seeds. By deploying mapping sensors in fields, farmers can begin to understand their crops at a micro-scale, conserve resources, and minimize impacts on the environment. Precision ag sensors provide data that helps farmers monitor and optimize their yields and keep updated with changing environmental and ecosystem factors.
The land area that can be used for agriculture is decreasing while the world's population, which needs to be fed, is growing. The pressure to get more crops out of less land while preserving resources and the environment sounds like squaring the circle. And yet automation is already making many things possible today that were considered unthinkable just a few years ago.
Smart agriculture sensors can help with animal identification, heat detection, and health monitoring and support to separate and treat sick livestock while locating and tracking their herd. With intelligent sensors in agriculture, farmers can also understand their harvests and productivity, sustain resources, and prevent or control the crops from environmental impact or disaster.
What is the role of sensors in agriculture?
Agricultural sensors provide data that helps farmers constantly monitor and optimize crops with environmental conditions and challenges. These sensors in agriculture can be installed in weather stations, and on drones and robots used in the industry.
They can also be controlled by mobile apps precisely, which have been developed for this purpose. Agriculture sensors are typically based on wireless connectivity and can be controlled directly using wifi or cellular towers with the help of mobile phone applications.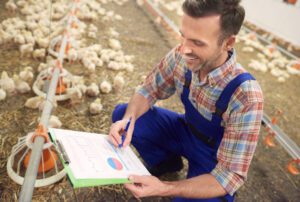 Types of sensors in Agriculture
A sensor is a tool that measures or detects natural world conditions like motion, heat, or even light and converts this condition into a digital representation.
There are several types of precision ag sensors for innovative agriculture incorporation.
Optical sensors in agriculture
It employs light to measure soil properties and various frequencies of light. These sensors are placed on vehicles or different drones, allowing soil reflectance and plant colour data to be gathered and processed. In addition, optical sensors can determine clay, organic matter, and soil moisture content.
Electrochemical sensors for soil nutrient detection
It helps to collect soil's chemical data. Electrochemical sensors provide information sensors for soil nutrient detection. Soil samples are always sent to a soil-testing lab. Specific measurements, like the determination of pH, are performed using an ion-selective electrode that senses the activity of particular ions, such as nitrate, potassium, or hydrogen.
Mechanical soil sensors for agriculture
These precision ag sensors utilize a mechanism that cuts through the soil and considers the force measured by the pressure scales or load cells.
Whenever a sensor cuts through the soil, it documents the holding forces resulting from the breaking, cutting, and displacing of soil. Soil mechanical resistance is also measured in a unit of pressure. It represents the ratio of the power essential to enter the earth to the frontal area of the tool in contact with the soil.
Gamma Radiation Sensors
Gamma radiation spectrometers, or sensors, are passive tool that use synthetic crystals, such as cesium or sodium iodide, to measure the concentration of gamma radiation being emitted from the soil. Soil is in a constant state of decay, and gamma radiation is emitted during this process. Various types gamma radiation sensors have been used across many industries outside of agriculture, including heavy-mineral mining. The correlation between the concentration of gamma radiation and soil texture can be used to create accurate, high-density soil property maps.
Dielectric soil moisture sensors
It measures the moisture levels in the soil. The moisture sensors are used in connection with rain check locations throughout the farm. This allows for observing soil moisture conditions when the vegetation level is low.
Location sensors in agriculture
These sensors determine any position's range, distance and height within the required area. GPS satellites have also been used for this purpose.
Electronic sensors
Electronic sensors can be installed on tractors and other field equipment to check equipment operations. Then, cellular and satellite communication systems are used to convey the data immediately to the computers or e-mail it to people. The field executive can then monitor the information on their office computer or cell phone.
Airflow sensors
Airflow sensor measurements can be made at particular locations while on the go. The desired output is the pressure to push a fixed amount of air into the ground at a prescribed depth. Various soil properties, including structure, soil type, compaction, and moisture level, produce a significant identifying signature.
Agriculture sensors IOT
Sensors provides information like air temperature, soil temperature at various depths, leaf wetness, rainfall, chlorophyll, wind speed, wind direction, dew point temperature, relative humidity, solar radiation, and atmospheric pressure is measured and recorded at scheduled intervals.
Uses of the sensors in agriculture
There are many sensors used in smart farming:
They are used in Agriculture sensors, IoT or agricultural weather stations. This equipment is equipped with sensors that give information about soil and air temperature, rainfall, leaf wetness, chlorophyll, solar radiation, wind direction, relative humidity, atmospheric pressure etc.
They are used in many pieces of equipment or devices developed by agro-based industries for farming applications like measuring trunk diameter, leaf wetness and many more.
Precision ag sensors are used in intelligent agriculture drones to spray insecticides and pesticides on crops.
Solar-based pumps are trending among farmers, with easy mobile operations to reduce electricity costs.
E-fences have become very popular in rural India to save crops from animals.
Advantages of sensors in agriculture
Agriculture Sensors have many advantages, from which you can take many privileges.
Sensors in Agriculture were invented to meet the surging demand for food with minimum resources like water, fertilizers and seeds.
They are simple to operate and use and also easy to maintain.
Sensors can be cheaper in price and provide high quality data and insights.
They can measure pollution and global warming for their fields and crops.
These sensors are equipped with wireless chips to be controlled remotely.
In conclusion
The importance of sensors can always be addressed and emphasized as they help meet the demand for food, magnify yields and minimize resources. These precision agriculture sensors are easy to operate and cheaper in the long run. They make life easier for farmers and increase the overall quantity and quality of products delivered. Therefore, it is advisable that every farm owner should consider smart farming.
Visit https://soiloptix.com/ for more details.